Mom was right. Breakfast really is the most important meal of the day! It kick-starts your metabolism and gives you energy to power through your morning. Including soluble fiber — by eating fiber-rich foods and/or adding a scoop or packet of Regular Girl Prebiotic Fiber…

Read More
Regular Girl in the News
Scientists have discovered that your gut health and sleep are related, but they have yet to understand the connection. What is known is that taking a prebiotic fiber and probiotic supplement — such as Regular Girl Original Powder — is a smart bet. In this…
Wellness
Mom was right. Breakfast really is the most important meal of the day! It kick-starts your metabolism and gives you energy to power through your morning. Including soluble fiber — by eating fiber-rich foods and/or adding a scoop or packet of Regular Girl Prebiotic Fiber…
Boosting your fiber intake may result in more gas and bloating. Erin Judge explains how to increase the good stuff without the discomfort.
Regular Girl is now a complete care system that works with the body's natural ability to restore itself. Regular Girl products are made with premium, clean ingredients that support everything from regularity and gut health to overall balance and nutrition.*
Regular Girl Restore helps control stress and enables you to enjoy more restorative sleep, all keys to maintaining a healthy immune system.
One of my favorite probiotic strains is Bifidobacterium lactis, AKA B. lactis, which is found naturally in yogurt and other fermented milk products.
Not only is Vitamin D vital for strong bones and teeth, deficiencies have been linked to other health issues. It also appears to play a role in supporting immune system health. And here's a shocker: More than 40% of us may not be getting enough…
Researchers have discovered that the microbes which reside in a woman's gut may be associated with her ability to conceive.
Regular Girl is a complete care system specially formulated for women.
Meeting the daily fiber requirement is easy-peasy, lemon-squeezy thanks to Regular Girl Prebiotic Fiber and Probiotic Blend.
Give your body the boost it needs to feel more balanced, more vibrant, and more YOU! The Regular Girl Multivitamin was carefully formulated for women with the top-notch vitamins and minerals you need to thrive. 
Regular Girl is growing up and her family is getting bigger!  Regular Girl is a phenomenon! Since its introduction in 2016, the now-familiar hot pink packaging has become a symbol of a fun, premium brand that delivers on promise. Regular Girl was the first of…
If you're looking to lead a healthier lifestyle, taking a walk is more than a step in the right direction. This simple activity offers multiple benefits for your body and your mind. Best of all, you don't need a gym membership or special equipment, just…
Lifestyle
Our favorite way to make life slow down a bit is carving some space for ourselves to relax.
Experts suggest the best time of day to take your prebiotic is simply the time that works best for developing a daily habit
While it can be challenging to make positive changes in our habits, we feel like we're getting better every day.
Prebiotic fiber. Probiotics. Organic cranberry to help promote urinary tract health!
Regular Girl superfan Registered Dietitian Nutritionist Erin Judge dished up nutrition and digestive health advice when she appeared on YourMomCare's Instagram Live.
It's a day to celebrate your besties – write a note to let them know how much you appreciate them, bake them some sweet goodies, and cheers to many more years of friendship!
It's blended beverage season! Cool down this summer and mix in Regular Girl for a gut-health boost.
Our top picnic picks? We've tagged them below – including a travel packet of Regular Girl, of course!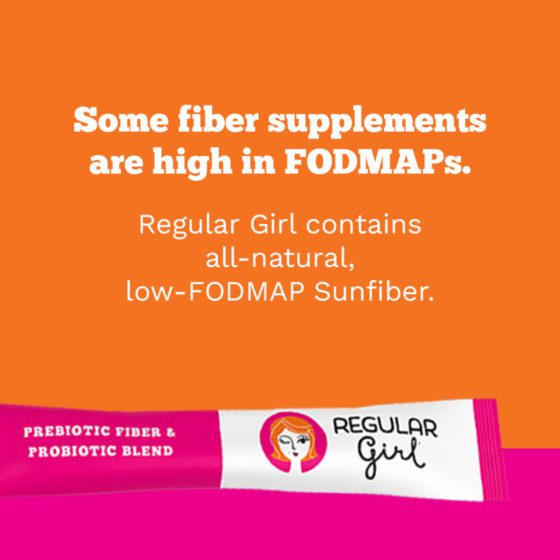 There are a few things to know before you shop for a dietary fiber, especially if you eat low-FODMAP
Introducing a new member of the RG fam: Regular Girl® Restore! Show your immune system some love with antioxidant-packed elderberry, stress-relieving Suntheanine®, and immune-boosting vitamins. Tap here to shop: https://bit.ly/3f6MEzF
Springtime produce is the perfect inspiration for a refreshing gazpacho: Blend cucumber, avocado, and fresh herbs like dill and basil together with Greek yogurt, lemon juice, and olive oil. For a gut-health boost: mix in Regular Girl!
We thank you for all the support and care you've given – hope you're able to enjoy some "me time" today!
Recipes
Happy holidays! These festive no-bake treats provide an extra boost of prebiotic fiber and probiotics – thanks to Regular Girl.
Did you know? Your typical grocery store watermelon weighs between 20 and 25 pounds and contains 14 to 18 pounds of edible fruit! Here are seven ways to use this delicious bounty:  Make a watermelon sorbet. This recipe from Food.com is so easy, you'll…
Creamy hummus is full of vitamins, minerals, and fiber, which makes it a perfect healthy snack.
Smoothies are a great choice to start your day or end a workout. To ensure you're getting the biggest nutritional punch, follow these tips
Bring a little sunshine to your winter by adding in-season citrus to your morning smoothie! This green smoothie contains plenty of vitamin C, calcium, potassium, and fiber thanks to citrus, banana, and spinach.
Whether with a romantic Valentine's Day meal at home or a fun Galentine's get-together, you'll love these sweet pink Love Potion drinks!
Hydration is so important – especially in the morning. Start your day off right with this blended drink filled with hydrating ingredients and fiber:
Pumpkin purée helps add a kick of fiber (and color!) to this no-bake cheesecake recipe: Ingredients • 2 c. cold heavy cream • 2 8-oz packages cream cheese, at room temperature • 1⁄4 c. packed light brown sugar • 1 15-oz. can pumpkin pie filling…
This refreshing, zesty drink has a secret ingredient … find out what it is and get your fizz on with the recipe here:
This taste of Italy is a breeze to prepare and oh-so-good for you, too.
This fiber-filled dessert from Chef Gerard Viverito will please your taste buds and your tummy.
Yes, it is possible to make food that is good for you AND tastes delicious. You just need to have a few tricks up your sleeve. Regular Girl is honored to be part of Chef Gerard Viverito's toolbox of functional ingredients. Chef G, known as…
What is Your Poop Telling You?
Believe it or not, your poop is a window into your health. In everything from its shape and consistency to its smell and color, your poop is the best indicator of your gut health. It's time to listen to your poop, and we're here to help! There are seven common poop shapes. Some indicate superb digestive health; others, not so much. Download our stool chart to see what your poop is telling you. Your body will thank you.